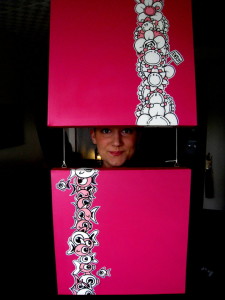 Finalmente l'ambito premio per il prestigioso concorso "Who is the (Be) Happy Fish?" è stato consegnato!

Così finalmente Annalia può trionfalmente esporre il suo trofeo: il dittico Be Happy Projectesposto alla mostra " Be Happy Project MEETS sosushi" ad Udine, in febbraio.
Prossimamente altri concorsi? Chi lo sa, perchè no, seguiteci e lo scoprirete!
ENJOY