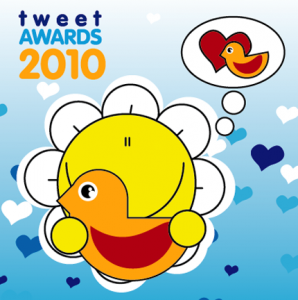 Sono lieto di annunciarvi che Be Happy Projectsarà uno dei partner ufficiali dei Tweet Awards 2010, il primo raduno nazionale del popolo twittante italiano: tu ci sarai?
25 settembre 2010, Riva del Garda (TN), ore 15:00
Ai protagonisti di twitter del 2010 verranno assegnati dei premi, tra i quali alcuni gadget Be Happy Project.
Per informazioni, il sito ufficiale è: http://tweetawards.tumblr.com/.
Per votare, la pagina esatta è: > vota <
Se ai Tweet Awards votate "behappyproject" vi ringrazio, altrimenti… grazie lo stesso.
Ci si vede sul Garda, quindi (probabilmente).
Se già non seguite Be Happy Project su twitter, questo è l'indirizzo: twitter page.
Enjoy